CMHA is committed to sound program performance and quality improvement. An Integrated Quality Improvement Plan has been implemented "as a foundation of the commitment of CMHA Simcoe County to continuously improve the quality of the services it provides
CMHA, being quality improvement focused, puts emphasis on processes, standards, and indicators. A Performance Management and Quality Improvement Framework (PMQIF) ensures that there is consistency across programs to measure, evaluate and improve meeting sector standards and follow best practices.
CMHA's performance management and quality improvement framework has four domains: Performance Standards and Measures, Data Collection Strategies, Reporting and Decision Making, and Quality Improvement. The domains in the framework plan to integrate current and new initiatives that would support any quality improvement initiative in the agency. Click here to download a summary of our framework.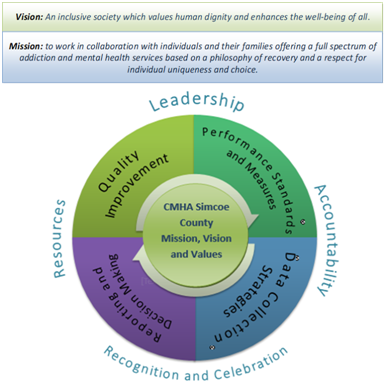 Quality Improvement
Quality Improvement helps CMHA to strive to continually promote and enhance the quality of the services that an organization provides. Quality Improvement is essential to achieving the objectives of the organization. It will focus on those functions of the organization that involve the provision of services to clients. Quality Improvement, program evaluation, and monitoring are integral and ongoing components of the program that impacts directly or indirectly on the clients and the services they receive.
In mental health care, quality is a measure of whether services increase the likelihood of desired mental health outcomes and are consistent with current evidence-based practice. This definition incorporates two components. For people with mental disorders, their families and the population as a whole, it emphasizes that services should produce positive outcomes. For practitioners, service planners and policy makers, it emphasizes the best use of current knowledge and technology. [1]
Improved quality means that mental health services should:1
preserve the dignity of people with mental disorders;

provide accepted and relevant clinical and non-clinical care aimed at reducing the impact of the disorder and improving the quality of life of people with mental disorders;
use interventions which help people with mental disorders to cope by themselves with their mental health disabilities;

make more efficient and effective use of scarce mental health resources; and

ensure that quality of care is improved in all areas, including mental health promotion, prevention, treatment and rehabilitation in primary health care, outpatient, inpatient, and community residential facilities.
"Quality is important for all mental health systems, from a variety of perspectives. From the perspective of a person with a mental disorder, quality ensures that they receive the care they require and their symptoms and quality of life improve. From the perspective of a family member, quality provides support and helps preserve family integrity. From the perspective of a service provider or program manager, quality ensures effectiveness and efficiency. From the perspective of a policymaker, quality is the key to improving the mental health of the population, ensuring value for monies expended and accountability." (WHO, 2013)1
CMHA Simcoe County in efforts to address the 6 domains of quality in healthcare (Agency for Healthcare Research and Quality) while using the Model for Improvement (Insititute for Healthcare Improvement), developed a framework that identifies our quality principles:
Ongoing quality improvement
Working towards healthy minds in our population
Ensuring accessibility for all
Partnering with clients and families
Balancing priorities
Using resources wisely
Click CMHA Simcoe QI Framework_2018-2019 to access our handout.
To accomplish this quality, several processes have to be implemented. The agency Quality Improvement framework is a portion of the framework below, which works in a harmonious cycle with program evaluation and monitoring.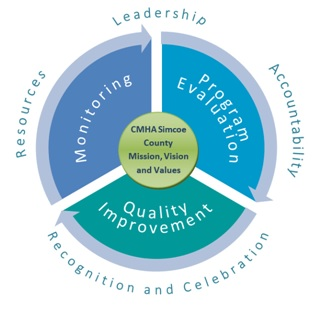 OPOC
As part of our quality improvement strategy, we ask our clients for feedback on the services they receive. In 2018, we used the Ontario Perception of Care (OPOC) to collect this information. Click here to see our results.
[1] World Health Organization (WHO). Mental Health Policy and Service Guidance Package – Quality Improvement for Mental Health. Geneva, Switzerland: World Health Organization, 2013.