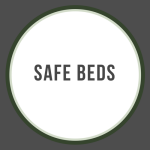 Eligibility: Clients must complete a risk assessment and face-to-face assessment to establish eligibility.
 Contact: 705-329-5846 or 1-888-329-5846
Safe Bed in Orillia is three beds, voluntary and non-medical, short-term residential program up to 14 days stay with the staff support from 8 am to 9 pm, 7 days a week. Safe Beds offers crisis intervention and a safe therapeutic environment for individuals to work through crisis situation and accomplish their goals.
Each applicant can be referred or self-referred to the program by a paper referral or by a telephone contact with the Safe Bed staff.  Safe Bed staff will complete an admission screening to meet eligibility criteria for the program.  Applicants will meet with Safe Bed staff in the community to assess and triage with all current applications.
Applicants are expected to establish self-identified goals and a plan.  Applicants are encouraged to access staff for support and advocacy to help navigate the community support systems.  Safe Bed staff will be actively involved with supporting your plan to develop a successful discharge plan that is successful for the applicant