January 19, 2021
7:00 pm to 8:30 pm
Add to Calendar (iCal)
Add to Google Calendar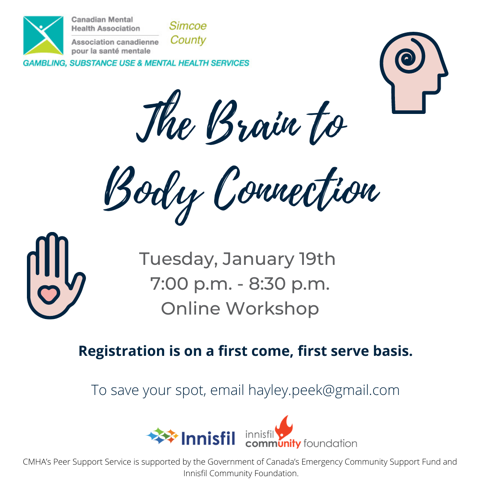 Tuesday, January 19th, 7:00 pm – 8:30 pm
Registration:  https://us02web.zoom.us/meeting/register/tZYucuyprj8jHd0Kg9XNkckon2ThCmuTcF9o
Details: This session will provide practical support in identifying held stress in the body and provide proactive tools to help self regulate. We will work to better understand our mental health and how it relates to our breath and body through subtle exercises.
Registration is on a first-come, first-serve basis.
Facilitators Hayley Peek and Priscilla Filipe both bring extensive lived experience with mental health challenges to the table.
Hayley works as a Peer Supporter and Mental Health Consultant in both the workplace and the community. Her focus is on creating safe spaces for education and conversation around mental health, wellness and addiction.
Priscilla, a former funeral director, focuses on the essentials of breathwork, healthy posture, neuroplasticity and presence within our everyday living. Her work encompasses anatomy based practices created from compassion and care; a deep love and understanding of the human body she continues to explore the science that supports how emotions are intimately connected to the nervous system and share an in-depth approach to living well.