Location Map:
Map Unavailable
August 17, 2018
11:00 am to 3:00 pm
CMHA RSVP Location
15 Bradford St
Barrie, Ontario
L4N 1W2
Canada
Add to Calendar (iCal) Add to Google Calendar
This event supports the Canadian Mental Health Association's Social Club RSVP (Recreational, Social, Vocational, Peer Support) and raises mental health awareness.
DONATE & GET YOUR CAR WASHED!
HUNGRY? STOP BY FOR A BBQ LUNCH!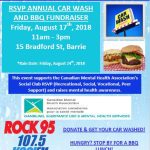 See our poster for more information. Flyer Car Wash 2018.