CMHA at Schools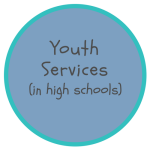 Eligibility: Youth who attend High School in Simcoe County.
There is CMHA youth counsellors in several schools throughout Simcoe County.
To access a youth counsellor in your school, ask your guidance counsellor or other school support and the will arrange an appointment
If you are not comfortable speaking to a school support person about a referral, call the youth services office at (705) 726-5033 for information
IN PERSON DROP-IN SUPPORT IN AVAILABLE AT 134 ANNE ST. SOUTH, BARRIE, ON MONDAYS FROM 1PM-4PM.