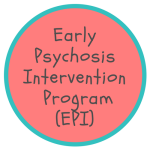 Eligibility: Young people between 14 and 35 years old who reside in the Barrie, Orillia, Midland/Penetanguishene, Innisfil, Angus and Collingwood areas. Family support is offered to any family member of a young person with psychosis.
Anyone can make a referral including a self-referral. To make a referral or learn more about the program call (705) 726-5033.
A team made up of professionals from various disciplines provides intensive service to youth and young adults who are experiencing first-episode psychosis. Services include individual and group treatment, family support, and education for anyone wanting to learn more about the onset of a psychotic disorder.
Clients of this program who are First Nation, Métis, or Inuit have access to an Aboriginal Worker on the team.