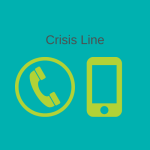 Local 705-728-5044 * Toll-Free 1-888-893-8333
If you are in crisis and looking for support, we can help – the Crisis Line is available 24 hours a day, 7 days a week
Crisis Services offers 24hr telephone support to assist individuals, community agencies, and emergency services – to work through the resolution of identified issues and challenges. Our team is comprised of mental health and addiction professionals, who are trained in suicide intervention, and who can help to promote stabilization pre and post-crisis, explore and develop coping strategies, and provide support and recommendations to internal and external ongoing mental health and addiction resources. The team can assist with service navigation, and provide information about resources available in the community.
For individuals under the age of 16 years, options for available youth services can be provided as needed.
Crisis Services can provide face-to-face support in the community for situations that may require a more direct response. This is assessed and coordinated by the team and can be explored by contacting the Crisis Line directly.
*The Crisis Line is confidential, except when imminent risks are identified and there is a need for emergency service or further intervention*
---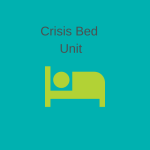 There are 5 Crisis Beds for the community, plus one exclusively for Police referrals
Individuals seeking a Crisis Bed admission can call the crisis line to do an initial telephone risk assessment and then arrange for face to face mobile assessment to determine eligibility for admission
Crisis Bed admissions are brief and goal-oriented
In-house the crisis team offers mental health and addictions support, referrals and connections to ongoing support, stabilization, crisis planning and assistance with any other goals as identified during the admission
Aftercare support can be provided through referral to our CARE program (Crisis Aftercare and Recovery)
Eligibility for Crisis Beds is 16 years and over
Police services from anywhere can access the Crisis Bed Unit 24/7 and contact the crisis line directly to make a direct referral
---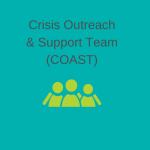 Our Partners:
Barrie City Police
South Simcoe Police
Orillia OPP
To inquire about or make a referral to our COAST services please contact the crisis line (1-888-893-8333 or 705-728-5044). Referrals are assessed and facilitated by the crisis team.
Our COAST teams include mental health and addictions professionals, partnered with a police officer
The team connects with individuals who are at risk of crisis or frequently experience crisis, due to challenges regarding mental health and/or addiction
The team provides a mobile response to 911 calls for service in the community
Through assessment and intervention, the team provides support, resource connection, de-escalation, crisis resolution, consultation and recommendations to police and other community partners and resources
The COAST teams participate and liaise at Community Collaborate and Situation Tables as requested or required, to provide assistance regarding intervention planning for individuals in the community
COAST provides follow up response to individuals who are referred to COAST by police, and referrals that are facilitated by the crisis team
The COAST teams collaborate with service providers in the community to build coordinated service provision, including advocacy and diversion from unnecessary police involvement or apprehensions and promote reduced visits to hospital emergency departments
COAST teams in all areas operate on rotating shifts and schedules and do not provide 24hr service
*For immediate emergency response, please contact 911*
---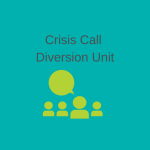 Our Partner:
Orillia OPP
This service is utilized within the Provincial Communications Centre with Orillia OPP and is not accessible to the community
The CCD unit provides support and intervention regarding mental health and/or addiction calls coming through 911