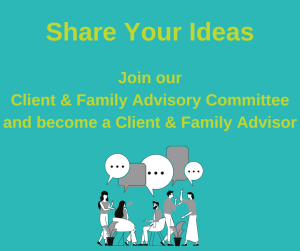 The Canadian Mental Health Association Simcoe County Branch (CMHA SCB) is committed to engaging with clients and family caregivers to understand their diverse needs while fostering a welcoming and inclusive environment where all individuals can easily access high-quality mental health and addiction services and supports that empower them.
We are passionate about providing person-centred mental health and addictions services and support. We have a unique collaborative opportunity for clients and family caregivers. We are looking for individuals who have received care or have supported a loved one to join our Client & Family Advisory Committee and become a Volunteer Client Family Advisor.
This voluntary experience will provide a place to share your mental health and addiction care stories, opinions, perspectives, and lived experiences to help guide, shape and co-design our policies, programs and quality improvement initiatives that influence our client and family care across Simcoe County.
Responsibilities & Opportunities
Share your client or family caregiver experience and ideas to help inform new mental health and addiction support policies, programs and services.
Inform the development of CMHA SCB quality improvement initiatives that directly impact the client and family caregiver care experience.
Serve as a voice for clients and family caregivers to ensure CMHA SCB provides the highest quality of care possible.
Engage in consultation to make recommendations and suggestions for community education and awareness events.
Meet others who are excited about improving the mental health and addictions service experience at CMHA SCB.
Able to see beyond your own personal experience and are committed to enhancing care service experiences for all clients and family caregivers.
Open-minded and solution-oriented with a positive attitude.
Able to speak in a group or in front of others.
Empathic, non-judgmental, respectful of diverse opinions and experiences.
Have a willingness to actively participate in committee meetings and be open to learning,
---
Membership
Clients who have received care services within the past three years from CMHA SCB.
Family caregivers who have received care services or psychoeducation while supporting their loved ones within the past three years from CMHA SCB.
Aim to have client and family caregiver representation from all programs within CMHA SCB.
Members will serve a 1-year term that can be reaffirmed to serve a total of 3 consecutive years. Membership will be annually reviewed. Upon completion of the first 3-year term, members will step away for a minimum of one year.
If an individual is interested in returning after one year, a new application will be completed. Upon rejoining the committee, membership will be reviewed annually and reaffirmed to serve a total of 3 consecutive years. At the end of the second 3-year term, the membership will be finalized.
Membership is voluntary.
---
Meeting Schedule and Location
Commit to attending afternoon committee meetings 4 times per year for a total of 8 hours per year. Additional meetings will be at the discretion of the Chair.
Must have access to the internet and have a user understanding of Zoom to attend virtual meetings.
---
At this time, all Client Family Advisor positions are filled.
We will update our website when positions become vacant.
---
Have questions? Please contact the Client & Family Advisory Committee's Chairperson, Tara Maxwell at tmaxwell@cmhastarttalking.ca