Urban Pantry is a community food program of the Canadian Mental Health Association Simcoe County Branch.
Visit https://www.urbanpantrybarrie.ca/ to find out more!
Our mission is to strengthen the community of Barrie by fostering a connection between its citizens and their environment, through supporting the increase and diversification of a sustainable local food system.
---

Press Release
February 2023
The Canadian Mental Health Association Simcoe County Branch – Urban Pantry Program joins the national movement building community through food and advocating for policy change
[Barrie, ON, Feb 15]— The Canadian Mental Health Association Simcoe County Branch (CMHA SCB) is thrilled to announce it has joined Community Food Centres Canada's Good Food Organization (GFO) program. Together, this growing network of 400 organizations is fighting for action on the pressing issues of food insecurity, poverty, and inequity.
"We are thrilled to be part of the GFO network through Community Food Centres Canada. Our Urban Pantry program is committed to ensuring that the Good Food Principles underpin every action we take. Collaboration is key to delivering community food programming. We are excited to work alongside hundreds of other organizations to leverage resources and best practices. There is power in working together around food and community." Jenna Zardo, Urban Pantry Coordinator
The GFO program offers dedicated food programming in their communities. They align on a set of shared principles that speak to their commitment to developing programs that support dignity and health for people living on low incomes. These Good Food Principles are:
Take action from the individual to the systemic level
Invest in the power of good food
Create an environment of respect and community leadership
Meet people where they're at
Aim high for our organization and our community
Community Food Centres Canada (CFCC) supports the GFO with tools and resources for building capacity in many areas of their work. Within the larger program and among their peers, GFOs can share and develop their expertise and passions around best practices, programming, and advocacy. Additionally, as food insecurity, rates continue to rise and grassroots organizations are stretched beyond their capacity, GFOs can be part of a collective voice for the progressive income policies that will enable every Canadian to access the food they need.
Kathryn Scharf, Chief Program Officer at Community Food Centres Canada, explains:
"I am always so inspired to learn about the creative approaches our partner organizations take to building health and belonging through good food – be it an after-school program helping kids learn to garden and cook, or a community meal that brings seniors together over a delicious lunch. There is a lot we can learn from and share about this work. But at the same time, many are feeling the pressure created by inflation and growing food insecurity to meet the most basic food needs. One reason the GFO program is so powerful is that it offers an opportunity to push for policy change together. We want to see policies that support people to have the income they need so they can provide for themselves and their families."
Quick facts about Good Food Organizations:
89 organizations joined the GFO program this year, bringing the total to 387
13 provinces and territories are represented, along with some members in the USA and Australia
GFOs are mostly small, grassroots organizations: The majority have fewer than five full-time employees and fewer than 20 volunteers a month, on average.
Find out more: https://cfccanada.ca/en/What-We-Do/Good-Food-Organizations
About CMHA SCB – Urban Pantry
CMHA SCB provides a full care system for those with addictions and mental health issues. We serve everyone from youth to adults to seniors. The Urban Pantry program of CMHA SCB supports over 500 individuals and families with community food programming. Urban Pantry responds to community needs by providing individuals with access to nutritious food, food skills education, community gardens and volunteer opportunities. As part of the Simcoe County Food Security Framework, our goal is to increase physical access to nutritious food and improve food literacy.
Media contacts:
Lynne Raimondi lraimondi@cmhastarttalking.ca
Jenna Zardo jzardo@cmhastarttalking.ca
About Community Food Centres Canada
The Good Food Organizations community is facilitated by Community Food Centres Canada. At the heart of Community Food Centres Canada's work is the belief that food is a basic right. We bring people together around good food to help communities thrive. With more than 400 partners across the country, we build inclusive, culturally responsive Community Food Centres, share knowledge, create health-focused programs, and advocate for equitable policy change. Learn more at cfccanada.ca.

Media contact:
Kennedy Sherwood, Community Food Centres Canada, kennedy@cfccanada.ca
-30-
---
WHAT WE DO
Barrie Good Food Box
Community Cooking Classes
Community Gardens
---
​​COMMUNITY GARDENS INSTALLED​
​Youth Wellness Garden, CMHA Simcoe County
RSVP Garden, CMHA Simcoe County
Shear Park, City of Barrie
Eastview Park, City of Barrie
Riverwood Park, City of Barrie
Batteaux Park, City of Barrie
Lampman Park, City of Barrie
Timbercrest, Barrie Housing
Northfields, Barrie Housing
Edgehill Terrace, Barrie Housing
Barrie Native Friendship Centre
​
Very special thanks to the Barrie Woodworkers for building the garden plots and raised beds, and to all the community partners.
---
COMMUNITY COOKING CLASSES
Community Kitchen Partner Locations:
Barrie Free Methodist Church
CMHA Simcoe County – RSVP Clubhouse (pre-COVID-19)
Barrie Community Health Centre (pre-COVID-19)Virtual (Zoom) cooking classes & ingredient delivery
Adapted cooking lessons & meal kits for CMHA clients
---
BARRIE GOOD FOOD BOX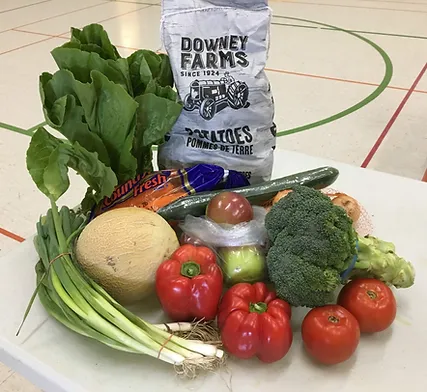 ​Community buying "club" for wholesale fresh produce
Order a box for $20 by the first Wednesday of the month
Pick up at the Barrie Free Methodist Church on the second Wednesday of the month​
Pay it Forward option for those in need. Boxes of fresh fruits and vegetables are distributed each month to people who need it with the help of community partners, including:
Youth Haven
UPlift Black
Barrie Families Unite
Women and Children's Shelter
Barrie Native Friendship Centre
Order a box for yourself and/or Pay it forward at barriegoodfoodbox.com
​
Donations to Urban Pantry can be made via CMHA​
Please mark your donation for Urban Pantry or the Barrie Good Food Box in the "Tribute" section
​
Volunteer sign-up​
If you would like to join the Urban Pantry advisory committee, please contact jzardo@cmhastarttalking.ca | 705-331-2392.
​