Services for Young Individuals
Identify how do you feel from the column on the left and click on the program you need to access.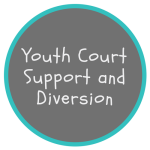 I have a mental health problem or mental disorder and
became involved with the criminal justice system.
I live in Barrie or Orillia.

I have concerns about my substance abuse
(such as alcohol and drugs)
OR Someone I know is experiencing substance
abuse and is affecting my life.
Click on one of the options below to identify how to access other services based on your age.