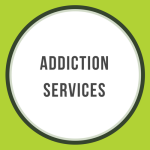 Individual Counselling is community addiction treatment available to individuals 12 years of age and up who are concerned about their own or someone else's substance use. Addiction services are client-centred, acknowledging that people have the right to make their own choices while being treated with respect, compassion and dignity in a safe, non-judgmental environment.
The focus of counselling sessions may include exploring family history, history of substance use, triggers, coping skills, strategies and other topics identified by the client. Our approaches are rooted in evidence-based practices. Counsellors may use approaches such as Cognitive Behavioural Therapy (CBT), Dialectical Behaviour Therapy (DBT), Motivational Interviewing (MI) and others.
Goals are defined by you and may include abstinence, moderation, safer use or other harm reduction goals.
Attendance may be as frequent as weekly, depending on individual need. A specific treatment plan will be developed with the counsellor. Services are available by phone, via videoconference or in person.
Counselling staff are all registered to provide psychotherapy in Ontario under one of the regulated colleges including the College of Registered Psychotherapists of Ontario or the College of Registered Social Workers and Social Service Workers.
The counselling program is voluntary which means you must make contact directly to become registered (no medical or outside referral is necessary).
Which program will best fit your needs will be determined at the point of Intake.
If you are aged 12 to 24, please visit our Youth Addiction support page for more information.
---
To book an Intake Appointment in the Barrie, Orillia, Innisfil and Collingwood areas please call
 705-726-5033 or 1-800-461-4319 (Toll-Free)
To book an intake appointment in Midland please contact:
Midland – 705-526-0393
---
CMHA Addiction Services supports people living in North Simcoe County
For addiction support in South Simcoe (such as Bradford, Cookstown, Alliston, Tottenham, and Beeton), please contact Addiction Services Central Ontario at 1-800-263-2288
---
A listing of specialized services is as follows:
| | | |
| --- | --- | --- |
| | | |
| | | Brief Service (available for Barrie area only) 4-6 individual counselling sessions (max 6) for individuals 25yrs+, utilizing a strength-based, client-centred, solution-focused brief therapy modality that focuses on solutions to presenting issues not the origins of the issue. (more information) |
| | | Group Therapy: Group therapy support programs for adults ages 25 + (more information) |
| | | Opioid Treatment Program: The Opioid Treatment program provides individual counselling and support to anybody concerned about their use of opioids or who is on Opioid Agonist Treatment. (more information) |
| | | Umbrellas Program: Umbrellas provides self-referred community-based counselling and support for women who are pregnant, or mothers of children 6 years of age and under who are concerned about their own, or someone else's substance use. (more information) |
| | | Gambling, Gaming and Technology Program: Individual community-based counselling available to individuals (12 years of age and up) who are concerned about their own or someone else's gambling, video gaming or use of technology. (more information) |
| | | Withdrawal Management: Community-based support for individuals with personal or doctor-assisted substance withdrawal goals. (more information) |
| | | Residential Treatment Referrals: We provide assessment, referral, and navigational support for individuals who are interested in attending a residential program to help support their substance use goals. (more information) |
| | | Day Treatment Program: A collaboration between CMHA Simcoe County Branch, CMHA Muskoka Parry Sound and Mamaway Wiidokdaadwin, the Day Treatment program provides a community-based group treatment option for people looking to address their substance use. Participants should already have identified a substance use goal and be working toward it. (more information) |
| | | Outreach: In Barrie, an Outreach counsellor meets individuals in the community at shelters and other common points of congregation to minimize barriers to accessing treatment. (more information) |
| | | Walking/ Street Outreach: In Orillia, staff support the Gilbert Centre with walking outreach proving supplies for safer drug use, naloxone kits, condoms, food and clothing (when available) at shelter sites, other common points of congregation and generally in the downtown area on Tuesdays and Thursdays from 11-2 pm. (more information) |